'Naked Lunch' (1991)
The Grand High Master of turning "unfilmable" books into unforgettable movies (remember "Crash"? Of course you do!), David Cronenberg took William S. Burroughs' stream-of-consciousness junkie memoir and turned it into both a twisted alt-world biopic and cinematic love letter to its one-of-a-kind author. Peter Weller (never better) is Bill Lee, an exterminator-writer who descends into Interzone, where he talks to typewriters that turn into giant bugs and dabbles in shadowy conspiracies involving a race of creatures known as Mugwumps. Or something. It's awesome, and it's all Cronenberg, all the time. No one else could touch this madness with a ten-foot pole.
'Unforgiven' (1992)
If "Naked Lunch" is all Cronenberg, then this classic revenge drama and morality play disguised as a Western is pure Clint Eastwood. Probably Eastwood's best work as a director, "Unforgiven" tells the dark tale of retired gunslinger William Munny, "a known thief and murderer, a man of notoriously vicious and intemperate disposition," who must come to terms with the fact that he's better at killin' than farmin' when he's called upon to avenge the disfigurement of a prostitute at the hands of thugs. "Unforgiven" could in many ways be seen as "the last Western," and it's only fitting that it's our most famous movie cowboy who made it.
'Groundhog Day' (1993)
One of the darkest dark comedies ever made and one of cinema's most classic existential conundrums, "Groundhog Day" could've easily become stuck in its own dramatic loop were it not given so much forward momentum by the singular talents of star Bill Murray. Sure, you could probably tell this oddly sinister holiday fable today, but it just wouldn't be the same without Murray as Phil Connors, a weatherman whose life becomes a Beckett play when he finds himself forced to repeat the same day over and over in the same nowheresville Pennsylvania town until he "gets it right." Murray seems more in his element here than in his other one-man showcase/holiday movie, "Scrooged," and director Harold Ramis has never been more confident.
'Pulp Fiction' (1994)
Don't even think about it. Ever. For almost everyone on the planet, the '90s were Quentin Tarantino. And if there is an A-Number-One '90s Tarantino movie, it's probably "Pulp Fiction." Please, Hollywood, don't ever touch this. You'd see the smoke from the moon.
'Clueless' (1995)
Director Amy Heckerling's '90s-era Beverly Hills remix of Jane Austen's "Emma" was the alternative screening choice during the summer of '95 for those tired of being pummeled into submission by the season's big loud action offerings like "Die Hard With a Vengeance," "Batman Forever" and, uh, "Johnny Mnemonic." One of the decade's funniest comedies, "Clueless" just simply couldn't exist today without the very, very '90s kind of materialism -- and matchmaking methods -- embraced by our heroine, Cher Horowitz (Alicia Silverstone, who somewhat unfortunately would never give a better performance). You'd have to account for Facebook and Twitter and Texting and Instagram and all that crap if you were going to make this movie today, and really, who cares about that stuff?
'Heat' (1995)
Michael Mann's "Los Angeles crime saga" could've only been made by Michael Mann. His meticulous obsession with every single detail, from the weapons used during the game-changing heist sequence to the color of Tom Sizemore's socks, is what makes "Heat" one of the most authentic and satisfying action epics of all time. And "Heat" would be rendered barely half as effective if it didn't also serve as the much-hyped team-up of dramatic heavyweights Al Pacino and Robert De Niro, whose first on-screen meeting had them sizing each other up over a cup of coffee (and no doubt trading "The Godfather Part II" stories in-between takes). It was a collaboration that was only meant to happen once, as evidenced by the wretched "Righteous Kill," released 13 years later.
'Showgirls' (1995)
"Showgirls" already gave us everything -- who would dare ask it to give any more? Really, Paul Verhoeven's instant cult classic went from being one of the most reviled films in the history of cinema to one of the most brilliant (well, let's not go that far ... actually, why the hell not?) as we realized as the years went by that it kind of wants us to hate it. In fact, it dares us to hate it. In fact, isn't it kind of lovable how awful this big, gaudy, indulgent, vulgar schlockfest really is? Really, no drunken slumber party is complete without the Blu-ray of this thing, and no modern-day update could come close to delivering its forbidden sorta-pleasures.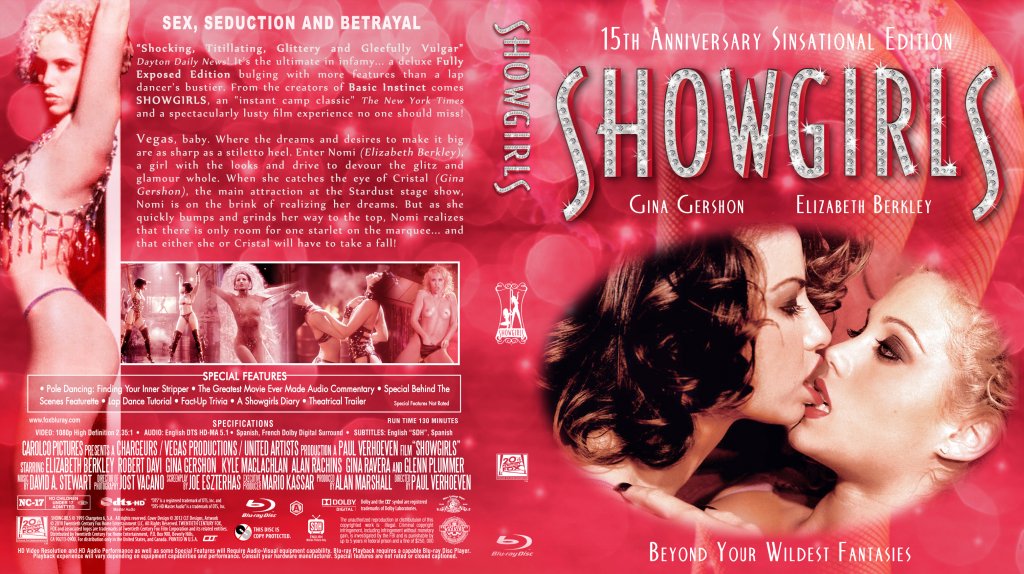 'The Usual Suspects' (1995)
Really, what could a new version of Bryan Singer's classic noir mystery possibly contribute to the world? We would never, ever, under any circumstances need a reboot of the tale of notorious criminal kingpin Keyser Soze and the two-bit thieves who get involved in his secret dangerous world. Really, the only thing any filmmaker could possibly do with this is pull a Gus Van Sant and do a shot-for-shot remake, just to prove beyond the shadow of a doubt that, like Van Sant's "Psycho," there was absolutely no point whatsoever in engaging in such an endeavor. Actually, Soze himself might appreciate such a devious stunt.
The Big Lebowski' (1998)
There may be more than one Jeffrey Lebowski, but there is only one Dude. Abide, Hollywood.
'Fight Club' (1999)
If there was ever a classic of pre-millennial tension and '90s-era spiritual discontent, it's David Fincher's "Fight Club." It was the perfect movie with which to close not only the '90s but the entire 20th century as our unnamed Narrator (Edward Norton) literally beats the crap out of himself in basements whilst scheming to blow symbols of runaway consumerism (like, you know, credit card company highrises) to smithereens, all while hiding behind an alter ego who looks like Brad Pitt. Sure, "Fight Club" is still relevant today, but the 21st century should find its own angry anti-heroes, no?